Welcome, my friends!
tumblr
Yeah... This isn't Isengard, I'm not a Hobbit, and you're not Gandalf. And this is February 2020. I gotta be honest, though, my post today isn't anything of minor Gif-full consequence. These are some thoughts I've had during the month of January.
For anyone doubting themselves, this is for you.
Not just writers.
Sometimes you feel like you're getting nowhere.
That you're running in place, exhausting yourself but not making any progress.
That you're pushing forward, but the only thing you're straining is your energy.
That you're swarmed by work and the thing you're passionate about is crushed beneath it.
You've just run out of words you can use. Or the thoughts. Or the passion.
tumblr
You realize, slowly, that this isn't going to be as easy as you thought. We have to make due with knives, painstakingly carving words into our manuscript. Or strokes into the art. Or strides to the walk.
It takes centuries.
I had a goal to write 20,000 words in January, to finish Magnolia Sun and thus free myself to chase down the closest plot bunny (they're trying to abduct me, and it's so RUDE).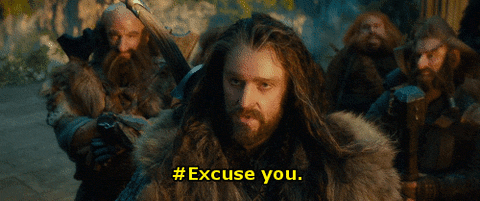 giphy
(Honestly tho, the plot bunnies are BAD right now, and poor Magnolia Sun is suffering for it).
One thing I have on my bullet journal is where I mark in how many words I wrote for the day. Well, with school, running, and social events I haven't had much time for writing.
Slash through the "word count" section.
Failed this day.
Red pens EVERYWHERE.
So when I sat down to write Magnolia Sun the other night, to actually finish the dear thing, I suddenly felt discouraged.
I was making NO progress on this thing, was I?
I would never FINISH this thing, would I?
Would it ever amount to anything than another lump of words that I had to edit?
Because my style has morphed so much in the last year that I'm afraid it's bad, and I'm afraid that there's nothing rescuable for this novel, that the words will never be accepted by anyone except myself and those closest to me.
Lies.
It's this nasty, smol but ear-piercing creature that says:
Can't
You all know about that Crisis of Writing I had last spring? Well, it's coming back to haunt me now. I've done only what I've wanted with writing, and yet I'm still concerned about what it's going to look like to other people. I want my writing to have a purpose.
But I feel like I'm going nowhere.
I know I'm not alone in this feeling. Every writer comes across this at some point in time or another. Every artist is their own worst critic. Every person wonders if they can really do this.
That doesn't make it any easier.
Friends. When you write, and when you think you're getting nowhere, when you're discouraged because your book is STILL NOT DONE, when it seems like all you will receive is rejection either from yourself or from publishers or the WORLD . . .
Just remember, for the sake of all of us, that you are making more progress than you've ever made before. Every sentence counts, even if it takes you ten years to write the novel, even if it takes you twenty, even if you NEVER finish the novel.
You have to keep going. Even if you're terrified.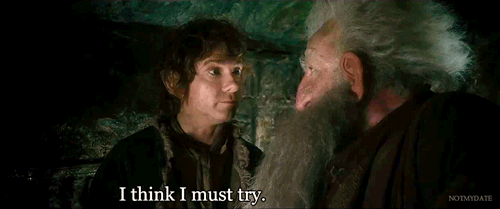 giphy
Recently, I read one of J.R.R. Tolkien's letters to his son, Christopher (these can be purchased on Amazon, I believe). He tells his son, that even in the midst of war, he must remain his hobbitish characteristics, to retain every piece of himself he can in the midst of this war.
Tolkien was terribly busy during the war, if you read his letters. But somehow, he found himself time to write. It took him YEARS.
Even we must retain our hobbitishness. We must fight for our courage. Bilbo was terrified to go into that cave of gold, where he knew a dragon lay. We are terrified to write, but we think that we must try.
We're terrified to step out of our holes. And those holes don't have to be about writing. It can be the everyday fight between that which is good and that which is evil.
We're not alone in this fight.
tumblr
You are writing what no one has ever DARED to write before, and for that, I commend you.
You are living a life that God has lovingly given to you. And no one else have ever lived a life like it.
Fight. Fight to write. Fight to live. Because the world is going to do it's best to suppress you. YOU'RE GOING TO DO YOUR BEST TO SUPPRESS YOU.
Don't give in.
Keep going because you love it.
Keep going because they need you to.
Keep going because YOU need you to.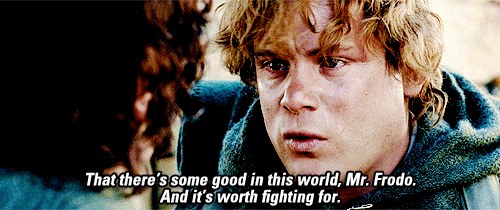 giphy
Keep carving deeper. A little bit at a time, you're going to make progress. You're going to see yourself get stronger. You will see barriers crumble away. Keep fighting for your passion, keep pressing forward.
It's there. You just have to find it.
And remember. That you aren't alone in this fight.
"And He said to me, "My grace is sufficient for you, for My strength is made perfect in weakness." Therefore most gladly I will rather boast in my infirmities, that the power of Christ may rest upon me."
> 2 Corinthians 12:9
He will be with you.
>>>>>>>>>>>>>>>>>>>>>>>>>>>>>
Snapper Out.