The first thing I like to tell people about me is my name.
The second thing I like to tell people is my hobby / life's work / which is only 4 years of life / but will probably keep going forever / writing. Writing is everything. But as I'm working on my fourth novel, I think it's time I tried to publish something.
After all ... why not? I'm only trying to become an author.
Sorry, Spidey-Guy, but it's a bit more complex than that.
But there's also a whole lot of other things I have to do to get there. I have my plan, my deadline, and I'm bringing my A-Game. Here's how it's going to work.
Editing is up first. I've already made it past my first four/five rounds of edits. I lost track around four. After this, I'm going to send it to an editor.
Little note about editors. They cost a lot of money.
Like, I'm talking anywhere from 1k - 3k a lot. While it's recommended to hire an editor, it's even more recommended to find a reputable one. And I'm not going to pay 3k to get my book edited. That's why I know a person who knows a person who can edit my book for slightly cheaper.
Summer is the time to find money. I'll be right back after searching the city streets for lucky pennies.
Querying is a far more complex process. Query letters are the face of me, my book and everything I hope to stand for for the rest of my life. One mistake can ruin that publishing house for me. I mean, agents receive hundreds of query letters a month, and only accept a select few that might make money in the future.
That slush pile, as they call it, is a majority of letters to be forgotten. Which is why the query letter is what my book is weighing on.
I'll take my chances.
But before I can even begin to write query letters, I need to research agents. Several ways to do this: writer's digest often has listings of agents currently looking. Then there's going through the acknowledgements of books to find agents. Then there's the internet.
Once I narrow it down to a list of possible agents, I write the query letters and send them off. Only, all of that is after I've written the book proposal. Because, if by some insane chance that the agent happens to accept my book, they'll ask for an example of my novel (hence the completeness required) and a full book proposal (hence the next thing).
The book proposal I already have a draft of. It took me a week or two to write and it could still use some polishing, but I have some writer friends who were kind enough to lend me samples of theirs that I could base mine from. Highly recommend looking at samples before going to write yours.
The book proposal represents my book, characters, plot, message, statistics, future plans and introduces me, who I am, what I've done that looks impressive, and what I'm willing to do to promote my book. And also how to contact me.
We's the same, Thor.
I'm not even going to talk about the synopsis, the three page scene-by-scene description of my book.
As mentioned in previous posts, my book is meant to be expanded into a trilogy. Best to have a plan for the rest of those books too.
Sector One is currently in it's final editing stages and will be the first book. Right now, it's about 85,000 words and shrinking (I hope. The less words is the less money I have to pay to get it edited). It should be ready to send out by August.
Sector One 2 is a 100,000 word rough draft. I've not touched it at all. I haven't even read it since it was written. That one I know is going to require a lot of work, but I know what I have to do. At least 20,000 of that can be cut because it focuses on the side characters.
Side character remain side characters. They cannot become main characters.
And Sector One 3 is currently being written. I'm 65,000 words in ... although I regret to say I'm probably only halfway through. *headdesk* Why?
Save yourself the pain. 120,000 words when you aim for 80,000 is not a good thing.
Nasty little side characters. So hopefully I can get through another 60,000 words this summer and be done with writing the trilogy.
In the end, though, I can aim to send out queries by August. I can aim to finish my trilogy this summer. I can aim to be accepted by a publishing house before I start college. But it's important to bear in mind that all this is according to the Lord's will and the Lord's timing.
But for now, I only need to wait and keep moving onward.
Besides, there's only one way to contact me right now.
Anyway, that's my plan for publishing. Do all those things. By August, I hope to have sent out those queries. By September, have started a new novel and begun editing Sector One 2. We'll see how long it takes for me to get accepted.
Are you planning on publishing anything?
Have a great weekend, everyone!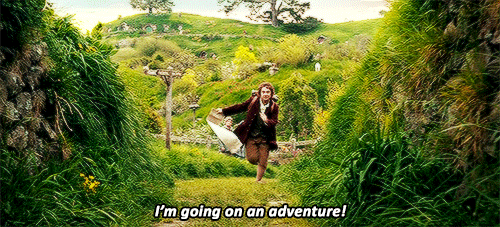 Giphy