Well, this is the last you'll see of me until NaNoWriMo.
I have two weeks, and too much to do still. I'm not here to give you a list of things to do, but as an overview, I will say that I haven't even finished characterizing yet. My plotting process is jumbled, if you saw my previous post on plotting....
But here's a bit of what's been going on in my head as I've been plotting, then we'll be back for the NaNoWriMo tag the first Friday of November... which is November 1.
Goodness, that's soon.
I never really considered doing NaNo until someone asked me to be friends with them through the site. I'm not really sure whether to blame bandwagon or some irrational decision making process in my brain:
Le Internet // Look at Newt i.e. my friends trying to save me life. Isn't it funny? ;-;
Yeah. So now I'm stuck in this maze called Preptober, whose walls shifts while I'm inside it, who tries to eat me whole and make me die a slow and terrible death.
But I'm resilient!
I write smart things.
"For their part, the people on earth did feel remarkably left behind, but only because they felt left behind."
> From a collection of ideas for the NaNo Novel.
Don't you just love writing? Nah, but even better than writing is reviewing the notes you've written while you're half-asleep in bed and your book is shouting at you.
I didn't think that October would end up looking like this, busy, with my plot still only half-structured, with me staring it in the face and thinking that maybe ... maybe this is a bad idea.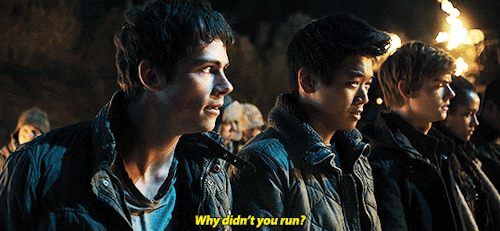 giphy //
Because, Minho, that would've been smart and intelligent, which Thomas and I are not.
So, instead, I've been full-sending it with life and everything else. Two weeks later and I've got a half-formulated plot with a lot of plot holes, and I've nearly exhausted my supply of plot bunnies. (but I found one in the recesses of 2017 but I'm afraid it's more of a dust bunny than a plot bunny).
At this point, I hope I haven't come off as a depressed writer. I'm not. I'm just concerned for the level of excellence of this novel. But you know what. It's a NaNo novel, and it's going to be okay.
All that remains is to finish carving out my villains and an extra cinnamon roll side character. Once that's done, I'll need to create a basic plot, as well as write the tag posts for the month of November (and those'll be epic, so don't miss out on those gifs ;).
And that's among all the life stuff. I'll barely make it out of Preptober alive. But I'm keeping my wits about me.
And I'll survive. But barely.
But EPICALLY.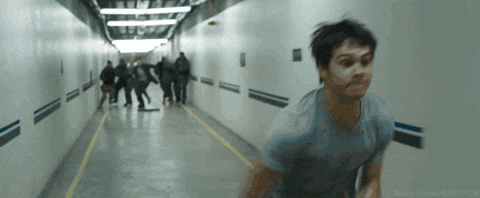 giphy
To put NaNoWriMo in a nutshell:
"Out of the frying pan and into the fire."
> Gandalf
Have a good two weeks, my friends. To those doing NaNoWriMo, I salute you with the hunger games salute. To those of you watching, I throw popcorn at. To those of you supporting me, I give you all necessary credit.

Also note that Snapper has officially reached 80 followers. Thanks, every one of you!! <3
Snapper out.